Our offering
We've been investing in Learning and Development initiatives from the very beginning of the tails.com journey. As a company we truly believe that to be the best and deliver the best to our customers, we need to focus on our own development; be that on-the-job, through peer learning or in the classroom.
We tailor our internal training sessions in the same way we tailor each dog's recipe to their individual needs, making our offering truly unique. Our CEO and his direct reports first designed and delivered our management programme alongside our in-house L&D Manager. Then our Heads-Of, who participated in the programme, started to deliver training to all our individual contributors, allowing them to embed what they had learnt, share their experience and drive more consistency across tails.com.
In parallel, we also work with some of the best external partners to provide more technical training.
What training you can expect
Your first experience of training at tails.com will be our inDOGtion Programme, during which you'll learn about all areas of the business, from the moment of inception right through to GDPR, data, marketing, and finance. People from all around the business take part in inDOGtion to share how their team contributes to our success. If you are in the Republic of Cat team or the AMS Production Team, then your induction will be tailored accordingly.
Here is what one of our recent new starter shared when speaking about the inDOGtion: 'I rated all the sessions as great because they are. Mostly because of how engaged & brilliant the presenters were but also who doesn't love learning about dogs even when it's related to Finance? Everything was well paced & slick. Giving me a lot of [dog] food for thought which has helped me get to grips with my role and the wider tails.com environment super quickly which is very appreciated.'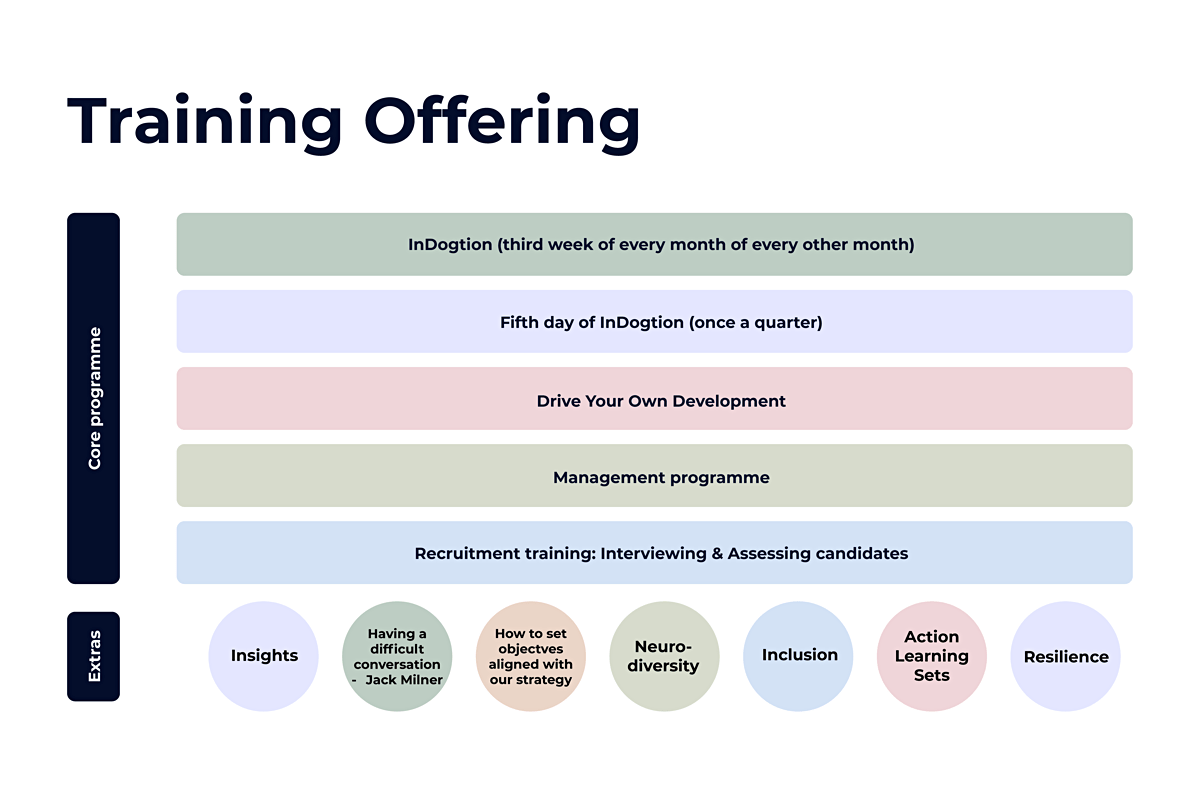 Then your learning journey will concentrate on building trust, as a team member or manager, and having the essential conversations to thrive as a tails.com pack member. individual contributors will learn the nuts and bolts of being a tails.com employee.
We're convinced most learning happens outside a training room, so the majority of our offering is in two-hour bitesize sessions. This allows time to prep, put learning into practice in day-to-day roles and build on each session. We run training either fully face-to-face or fully remote.

One of our success stories
Bryony our Health and Safety Manager, shared about a course she is currently undertaking:
Up until recently, I felt confident that the level of training and experience I had made me capable of managing our Health and Safety Management System here at tails.com. However, due to the rapid growth of not only our production capabilities but staffing levels, as well as the development of automated machinery and acquisition of multiple sites - the risks were too great for me to continue feeling comfortable as the 'competent person'. After a very honest and open discussion with my manager regarding my return to work following maternity leave, I suggested that I study for my NEBOSH National Diploma. My manager was in agreement with my proposition and very considerate and accommodating of my change in personal circumstances, with now two children at home, whilst working full time and planning on studying a diploma. I can already see that this training I am undertaking is going to significantly impact my confidence in providing advice and guidance as well as helping me become more effective in creating and delivering a vision that I know tails.com will support and embrace.
Non-work related development initiatives
Each team member is offered a day off for volunteering: they can use the day to support any campaign or movement that they are passionate about. We don't evaluate whether the cause is appropriate enough, we trust our team members' judgement.
We also encourage and support skill sharing amongst our pack: if someone has a particular skill to share, they can work with the Office Team to create an event or workshop around it. This is how our Proposition and Range Innovation Manager, and our Head of Performance Marketing, both trained yoga instructors, started delivering yoga sessions for employees (and a few dogs). We've also had members of our Finance Team teach Excel hacks, and our Office Manager lead regular crafting sessions, teaching cross stitch, bracelet making and more!
Our learning culture is ever evolving so if you also have ideas to improve it, we'd love to hear them!